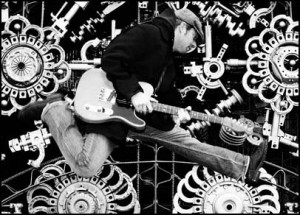 Sean plays guitar and is a music composer, songwriter-producer and Pro Tools junkie. He has written and recorded with Fatboy Slim and Chris Difford (ex-Squeeze), but he prefers to write and perform under his alter ego Jonny Quality, his new album "Bez Skety" being his newest and favorite batch of songs so far.
Released Music
Jonny is currently recording a new album with Brant Hansen in their new formed band Los Dingos. Sugar Sugar and Make it Crunchy are the first two singles released on iTunes.
Jonny Quality – Bez Skety shows off Jonny's acoustic guitar romps mixed with his telecaster vibrato solos.
Lupo Pazzo is Jonny's latest project. Think Gwar for kids. The content of the music and the songs will be rock and roll-punk for the adults to love as well. Check out the Halloween video!

Download the new album "Bez Skety" here.
Jonny Quality – Artist
Recording Artist/Composer-Producer/Guitarist
Fatboy Slim – DJ Recording Artist
Recording Artist/Composer-Producer/Guitarist
5 Foot Assassins – Music Group
Recording Artist/Composer-Producer/Guitarist
Chrysalis Music Group – Music Publisher
Songwriter, Artist and Composer